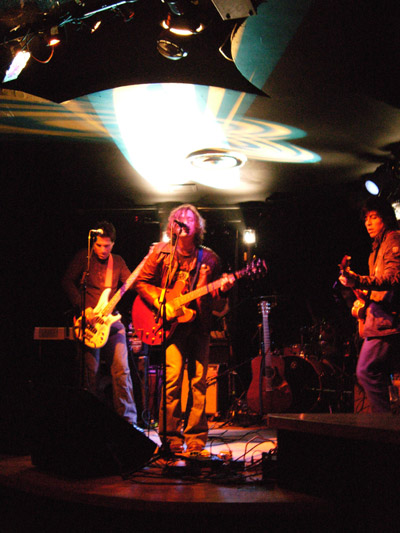 The Nightbirds
A Burlington Band on the Rise: The Nightbirds by Tonya West
If you've seen The Nightbirds, a five-piece Burlington rock band that emerged last spring, then you've come to expect certain things: particularly an unwavering intensity from lead singer/songwriter Brenden Shinosky contrasted by the consistent melodic backdrop of Jimmy Ladd on guitar. What's compelling about every show is that you get the sense both are individually passionate about what they're doing and together that creates the sound. Friends since a very young age, the two front a band whose originality and 35-song repertoire is a welcome interlude among a heavily laden house, jazz and jam menu.
Everyone knows that on stage, Brenden is the active, unpredictable one: swiping at the drums with his guitar, tempering hardcore yells with soft, passionate pleas, and collapsing onto the floor as layers of emotion leave his body exhausted.
Up until recently, though, nobody knew Jimmy grooved.
One night while playing at Nectar's, the jumping off place for local musicians, the normally focused Jimmy, who alternates between slide on acoustic and electric, began to fill his space with such good vibes you felt like you were watching a secret being revealed. To see this kind of quiet soul come alive and celebrate infused the moments afterward with such excitement you couldn't help but feel just as proud.