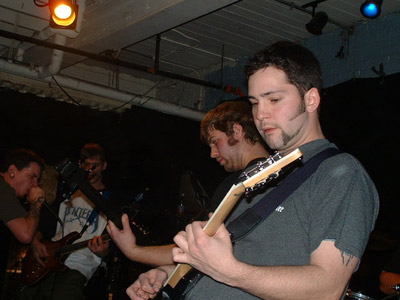 Prisoner 13 at 242 Main - The Big Heavy Buzz Fest
From Here to There: A Story of a Normal Punk Show in a Normal Town Part 2 by Ryan Krushenick
I work for a Burlington nonprofit called "Big Heavy World." In short, our mission statement was to preserve and promote local Vermont music, and lucky for us, lucky for everyone, we were located downtown, and had just cleared out one office room. We had been using that room for a practice space, but was it big enough to hold a show? In essence the answer to that question didn't matter, cause either way, we were going to try.
Like a swarm of locusts, people got back in their cars, or on their bikes, or simply started walking, taking over the streets the shoulders and the side walks. Some people didn't even have a clear idea where they were going, but they knew they had to go.
It takes everyone we have to move, clean, prepare and ready the room. Like clockwork we all move together, tables and chairs, 2x4's bricks and computers moving in every direction, people being herded off the streets.
The exact details of the show to me are a blur, and in reality, unimportant. Imagine 60 kids packed in a tiny room, the promoters, the bands, the crowd, all coalesced. It's a point in your life like this, everything stops.