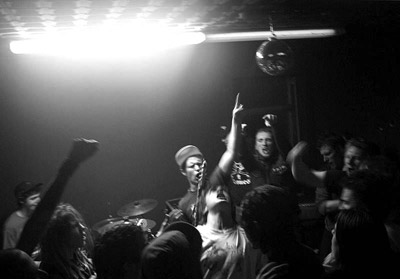 The Fuckbombs at Big Heavy World
Burlington and Big Heavy World by Jim Lockridge
Big Heavy World was founded in a band house in 1996 and has been promoting the Burlington and Vermont scene since then. It's a record label, web site, music library and store, and has mad fun putting shows together of all kinds. The office is in downtown Burlington and staffed by volunteers from high schools and colleges in the area. Big Heavy World volunteers wrote these stories about their independent music scene.
Info about some of Big Heavy's work is at http:// www.bigheavyworld.com or http://www.vmls.org or http://www.theradiator.org.
Contact:
bigheavy@bigheavyworld.net
.